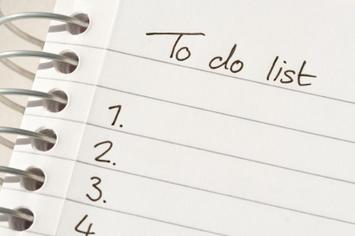 So my wife just got back from a 10 day trip to San Diego, leaving me and the kids to fend for ourselves while she was away having fun in the sun and some well deserved time with one of her best friends. During this little experiment, I learned several very important life lessons. The top two of these being:
Without my wife, my life would be a jumbled mess

of confusion and non stop shuttleing of my kids from one place or event to another (all of which we would be late for, by the way). I honestly don't know how single parents that have full time jobs are able to do that day in an day out. My hat is off to all of you. Also, I realize that I have the greatest mom and mother-in-law in the world, both of whom kept my kids alive this past week while I had to do a little work.
One of the most important keys to a healthy, fit, and enjoyable life is the

ability to plan ahead

and execute that plan. Whether it be workouts, eating, sleeping, practicing or getting stuff done; the better you are at planning out your day ahead of time, your odds of success dramatically increase. In other words, you have to have a plan of attack.
While the first of these "revelations" has always been pretty apparent to me, I just thought I would mention it in a public forum so they know how much I appreciate them. The 2nd, however, is something that I feel applies to everyone of my clients, myself, and every one reading this article in some way or another.
How Does Your Plan Look?
You may be one of those people that figured this planning thing out a long time ago and have been able to implement this into your routine for many years. I hope this is the case, and if so, I'd like for you to share some of the routines and planning tips that you have found to be most useful to you. It never hurts to learn some new tricks on becoming more efficient.
On the other hand, you may be one of those people that struggle with this constantly and therefore are always in a hurry, constantly feel disorganized, never seem to have enough time to do everything that "has to get done," and it's likely that you may have multiple goals, ideas, and dreams that you just haven't been able to make a reality yet as result of all of this.
Or you may be like me and have a little of both in you. I'm generally pretty good at taking care of my fitness and business related tasks, but when you throw in a couple of kids and their schedules on top of my work schedule without the help of my wife, chaos can creep up pretty quickly.
A Good Plan Gone Bad
I felt like I had the whole situation under control for about the first six days. I was Superdad! We dropped Susan off at the airport, we went to soccer practice, I cooked meals for us for the week (not to mention making separate extra meals for me as my current workout routine requires a pretty significant increase in caloric intake), I cleaned the house, got the kids bathed, in bed on time, got them up in the mornings and off to "Nana's" right on time, schools snacks were prepared and ready to go, I worked my normal schedule,got all my workouts in, and even had time to sit down and watch the Cardinals' Playoff games before they imploded against the Giants. Let's just say the house was running like a well oiled machine.
Then it happened. My plan for meals only lasted us about 6 days. And I made the mistake of not having a new plan ready for the next 4 days. This resulted in us scraping together a hodgepodge for breakfast, which caused us to be late for my haircut appointment. That made it too late to go home and prepare a lunch, so we just grabbed a sandwich at the deli. The kids were late for naps, thus late for dinner, and . . , you see the pattern here. The end result, they had pizza 4 out of the next 5 days either with me or at a family member's house, they were late to bed most nights, and my happy loving kids started to get a bit edgy before mom got home Monday night. I can't imagine why.
On top of the effect it had on the kids, it completely through me off of my training schedule and I found myself not eating the food I should have been, drinking enough water, or getting enough exercise. I can see how in this busy world, so many people struggle to stay healthy and fit. But don't let yourself use that as an excuse.
The Secret is in your Plan
After witnessing such a dramatic change in my habits just in this short period of time, I was reassured that the key to you, me and anyone else getting/staying healthy, getting fit, eating right, being happy, being productive, and having time to enjoy yourself, all stem from whether you have a plan.
Whether you are an athlete looking to get faster, stronger and more powerful, a stay at home mom looking to get in better shape and find time to eat right and exercise, or an average joe looking to simply put on some muscle to fill out your clothes a bit better and have more confidence with the ladies, the only way you can reach that end result is by having a plan, starting it, and executing it. And when that plan ends, you better have a nerw one or I promise you, chaos will ensue!!
This is true in all facets of life. If you want to be healthier, happier, and live a more fulfilled life than the majority of people in this hectic world, make the effort to start planning out your days and use your time wisely.